New Ventures
Water.org believes everyone in the world should have sustainable and affordable access to safe water and sanitation. To get there, we must fundamentally change the system. And this change must be driven by the intrinsic power of the poor as customers and citizens.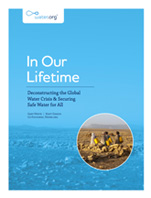 To accelerate the pace of progress, Water.org has launched its New Ventures Initiative and Fund. This is a philanthropic pool of capital generated by venture-minded philanthropists and problem solvers eager to team with Water.org to search for and launch the next round of big ideas that will change the face of this crisis for those that live it every day.
While continuing to drive our programs forward across the globe, investments in the Fund will catalyze an "Idea Lab" at Water.org. The Idea Lab will support Water.org teams and partners to generate new ideas, develop hypothesis, and to pilot, monitor, and take solutions to scale. It will support a portfolio of innovations experimental in nature creating things like mobile apps, financing mechanisms, citizen engagement tools, and things we haven't thought of yet.
We invite you to join us. Together, we can bring forth the capital, tools, and partnerships needed to channel the intrinsic power of those in need and solve the water crisis.
Additional resources:
Hult Global Case Competition
Do Something About It
There is no shortage of ways you can make a difference
Make a direct impact by involving your friends online and together we will make a difference. More »
Your voice has the power to make a difference. Signup and spread the message online. More »