TEAM Water.org
TEAM.Water.org is a nationwide community of endurance athletes whose passion for sport is matched by a strong commitment to providing safe drinking water to people in developing countries. Members of TEAM.Water.org raise awareness of the water crisis and select races (of any kind) in which they match the race entry fee with a donation to Water.org.
We welcome all athletes! Members range from weekend warriors to Olympian Jarrod Shoemaker and former Ironman World Champion Karen Smyers. Together, we are united to share the story of Water.org and its impact on water crisis. Join the TEAM for only a $25 annual fee, pledge to match your race fees as additional gifts to Water.org, and have fun while making a difference.

Buy your running or cycling jersey today at Pactimo.
---
Agreement | Join | Match a Race | Fundraise
More links: Executive Committee | Order TEAM Gear
---
Member benefits include:
Being part of an inspired community of diverse athletes making a difference in the world.
Helping bring clean water and sanitation to those in need.
Discounts on training products, coaching, and other services, as well as access to a private online store of Team Water.org gear and uniforms.
From TEAM Captain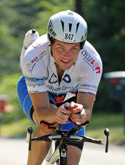 "In an effort to confront the global water crisis, my brother Matt Damon co-founded Water.org with Gary White. We have visited numerous sites around the world, and witnessed the transformative, life-saving effects of newly added clean, sustainable water and sanitation systems.
"As an Ironman triathlete, I understand and respect the human body's fundamental need for water. I also understand the extraordinary levels of commitment and perseverance endurance athletes put forth in pursuit of their personal goals. I invite you to join Team Water.org and harness that energy to Water.org's commitment to bring the power of clean water to the nearly one billion people who currently live without it."
Kyle Damon, TEAM Captain
Do Something About It
There is no shortage of ways you can make a difference
Make a direct impact by involving your friends online and together we will make a difference. More »
Your voice has the power to make a difference. Signup and spread the message online. More »