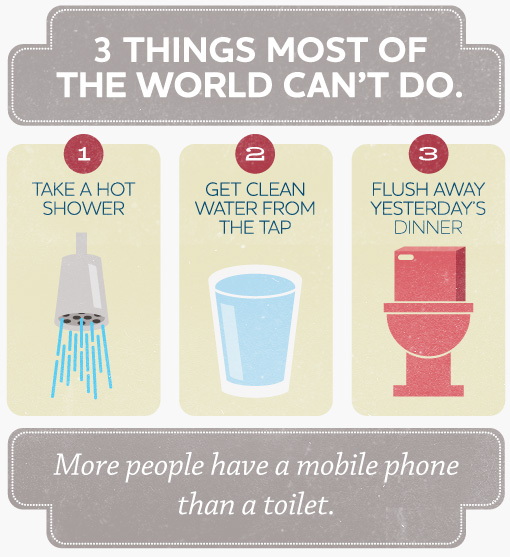 More people have a mobile phone than a toilet.1,2
---
2.5 billion people - or 1 in 3 - lack access to improved sanitation; 1 billion still practice open defecation.1
---
Improved sanitation facilities are estimated to result in an average reduction in cases of diarrhea by approximately 28%.3
---
Washing hands with soap has been found to reduce diarrhea by approximately 23%. 3
---
Only 64% of the world's population has access to improved sanitation - defined as a sanitation facility that ensures hygienic separation of human excreta from human contact. 1
---
Resource Links
Look for more facts in our collection of
Water Resource Links
.
References
World Health Organization and UNICEF Joint Monitoring Programme (JMP). (2014). Progress on Drinking Water and Sanitation, 2014 Update.
International Telecommunication Union (ITU). (2013). The World in 2013 ICT Facts and Figures.
Tropical Medicine and International Health. 19, no. 8 (2014): 894 - 905. Burden of disease from inadequate water, sanitation and hygiene in low- and middle-income settings: a retrospective analysis of data from 145 countries.
Water.org provides innovative, market-based solutions that change lives every day through safe water and sanitation.