Building the Future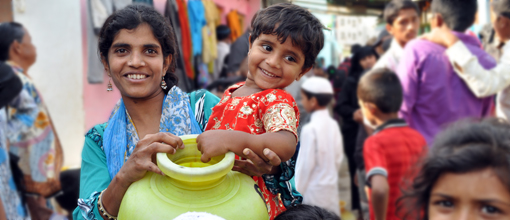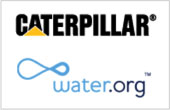 Thank you, Caterpillar Foundation. The Caterpillar Foundation will match all donations to the Ten Day Challenge, doubling each gift up to $200,000.
In November 2011, Water.org launched a $3 million partnership with the Caterpillar Foundation to reach more than 218,000 people in India with safe water and sanitation over the next three years. Through this partnership, Water.org will expand the reach of its WaterCredit activities in India, and lay the groundwork to expand this innovative and successful approach to Indonesia for the first time.
Pioneered in 2003, WaterCredit allows individuals to access loans for household water connections or toilets. Having safe water and a toilet in or near the home enables a life of health, economic opportunity, and dignity.
By assisting those who do not have access to traditional credit, WaterCredit empowers them to immediately address their own water and sanitation needs. As the loans are repaid, the capital is "recycled" to make still more loans with that same initial investment. Watercredit loan repayment rates are 97%, and this loan can reach five to ten times as many people as a traditional grant over a ten-year period.
Today, nearly a billion people still lack access to safe water while 2.5 billion don't have a toilet. Four million people die each year from preventable water-borne diseases, more than four thousand children each day. Support from the Caterpillar Foundation brings Water.org one step closer to ensuring that everyone in the world can take a safe drink of water - in our lifetime.
About the Caterpillar Foundation
The Caterpillar Foundation is the philanthropic arm of Caterpillar Inc., the world's leading manufacturer of construction and mining equipment. Founded in 1952, the Caterpillar Foundation has contributed more than $400 million to help make sustainable progress possible around the world by providing program support in the areas of environmental sustainability, access to education and basic human needs. More information is available at www.caterpillar.com/foundation.
About Water.org
For more than two decades, Water.org has been at the forefront of developing and delivering solutions to the water crisis. Founded by Gary White and Matt Damon, Water.org pioneers innovative, community-driven and market-based initiatives to ensure all people have access to safe water and sanitation; giving women hope, children health and communities a future. To date, Water.org has positively transformed the lives of nearly a million individuals living around the world; ensuring a better life for generations ahead.