WaterCredit: A Microfinance Solution
WaterCredit is a new way to apply smart thinking to the world's water problem. It's the first program to put microfinance tools to work in the water, sanitation and hygiene sector (what we call WASH).
WaterCredit puts the power of water directly into the hands of the people who need it. WaterCredit empowers the world's poor with access to small loans for household water connections and toilets. WaterCredit is breaking the cycle of poverty and creating a cycle of opportunity – an opportunity to enhance one's health, education and economic position.
Here's how it works:
We partner with carefully selected microfinance institutions who provide loans to a person or family in need for water connections or toilets.
The loans through WaterCredit are affordable, making them easy to repay.
Once the loan is repaid, it can go to the next person who needs it. It is a pay-it-forward system that makes it possible to help more and more people in ways that will last.
WaterCredit is working. It's transforming lives. It's gaining momentum. As of March 2016, WaterCredit has empowered more than 3.6 million people in nine countries with access to safe water and sanitation. Once a high risk experiment, WaterCredit is now changing the face of the water crisis.
The Inspiration for WaterCredit
On a visit to India in 2003, Gary White, CEO & co-founder, met a woman who was paying a loan shark 125 percent interest to buy a toilet. She was living on two dollars a day and absorbing a crushing debt for sanitation. Gary realized that this woman – and many people like her – were paying outrageous rates, up to 20 percent of their income, to address their water and sanitation needs. This was the inspiration for WaterCredit.
If the poor were paying such outrageous rates for water and sanitation, they'd certainly be willing to pay a lot less. Not just willing but, with some help, able. Gary believed that if we could provide people with small loans at reasonable rates for water connections and toilets, we would create customers and participants in solving the water crisis. It meant there was hope for this woman, her family and her community to get sanitation without losing their economic livelihood.
Meet Vimala and Grace
Meet Vimala and Grace, two of the 3.6 million people reached by WaterCredit.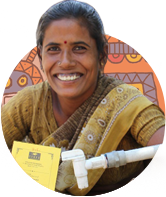 Before, Vimala and her family had to spend three hours each day carrying water from a communal source. Now, thanks to a WaterCredit loan, the family has easy access to safe water at home, creating more time and energy for a better life. Learn more about Vimala's story here.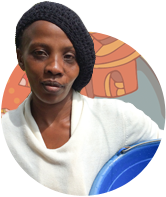 For Grace and her family in Kenya, a WaterCredit loan helped them install a rainwater catchment system and water tank. Grace envisioned the day when her young daughter would no longer have to walk to collect water. Now, with every rainy day, her hope turns into a beautiful reality. Watch Grace tell her story here.
WaterCredit Success
WaterCredit continues to gain momentum year over year. This accelerated impact is evidence that our foundational investment is paying dividends. It's proof of the true exponential promise of WaterCredit. And, the promise of WaterCredit is much greater than the safe water and sanitation it provides. Innovative solutions such as WaterCredit will not only help end the water crisis, but also transform lives by empowering girls to attend school, women to secure jobs, children to stay healthy and communities to gain prosperity.
WaterCredit Resources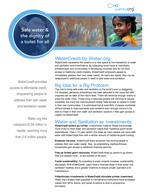 WaterCredit General Overview
(Jan 2016)
Water, Sanitation and Microfinance Toolkits developed by Water.org and MicroSave
WASH Microfinance: Market Assessments, Case Studies, White Papers
Information for Financial Institutions:
Global Learning Notes
Water.org provides innovative, market-based solutions that change lives every day through safe water and sanitation.