One Bottle's Promise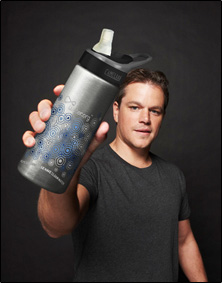 With each purchase of a limited edition Water.org CamelBak Groove bottle, you give a life-changing gift. While it keeps great-tasting filtered water always in your reach, it also brings safe drinking water and sanitation to people in developing countries.
$10 from every bottle purchased supports Water.org
Feature a limited-edition design
Environmentally friendly and a great gift
The CamelBak Groove bottle is 100% BPA-free, holds 20 oz, is dishwasher safe, and features the patented CamelBak Big Bite Valve.
Ordering is easy just pick stainless steel or plastic below. In partnership with Amazon.com, this year you qualify for free domestic standard shipping with each order. Additional questions, please visit our Frequent Questions page.
Water.org provides innovative, market-based solutions that change lives every day through safe water and sanitation.