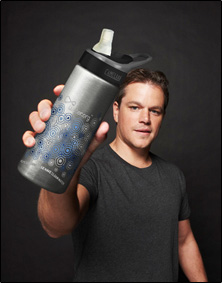 Win a water bottle signed by Matt Damon
Sorry, this promotion has ended. To stay up-to-date with Water.org news and promotions, sign up for our newsletter through the form below. Our emails are full of stories of lives changed with safe water.
Want to learn more?
Learn more about the water crisis or follow us on your favorite social media platform to find out how Water.org is helping people around the world gain access to safe water with the help of supporters like yourself.
To enter: You can enter the giveaway from 12:01 a.m. CST on September 24th, 2015 through 11:59 p.m. CST on October 9th, 2015. To enter, you must provide a valid email address, thus agreeing to receive emails from Water.org. No purchase or donation is required to enter. The winner will be selected at random by Water.org and notified via email on October 15th, 2015.
Promotion details: All entrants must sign up to receive emails from Water.org as their entry by 11:59 p.m. CST on October 9th, 2015. One entry per person will be accepted. False, deceptive or incomplete entries provided by the entrant shall render the entry ineligible. Unsubscribing from the e-newsletter prior to October 9, 2015 will render the entry ineligible. Void where prohibited or restricted by law. By entering this contest, you will be signed up to receive Water.org emails at the email address provided. This includes the Water.org monthly e-newsletter and other emails sent from Water.org. Email addresses will not be sold, traded or shared with other parties. This give-away is not sponsored by Facebook or Twitter, and is solely operated by Water.org.