Press
Welcome to the Water.org Press Room. Water.org invites members of the media to learn about our methods, access the most current news, content, and multimedia on the site.
Request an Interview or Speaker
Top Links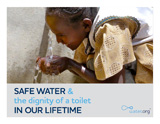 Press Kit (PDF)
About Water.org » Bio of Gary White »
About WaterCredit » WaterFacts »
Recent Coverage
Making Water Flow: An interview with Matt Damon and Gary White McKinsey & Company
Middle East Investors Slow to Back Social Enterprises Philanthropy Age
Zynga.org Hits 1 Million Raised Zynga.org Press Release
Why Matt Damon Loves Toilets Yahoo! News
A Common Theme Huff Post Impact
Together We Can Solve the Water Crisis CNN Opinion
First Impressions of Davos Bloomberg News
Bringing Clean Water Awareness to Davos CNBC Squawk Box
Davos Tuesday Round up The Telegraph
The Crystal Award BusinessWeek
The Real Future of Clean Water NY Times Opinionator
Coverage Archive »
News Releases
Print Documents
About Water.org 2-pager
PDF
Fast Facts
PDF
Annual Report
PDF
Co-founder Quotes
PDF
Photo and Video Resources
Water.org photos and videos are licensed as Creative Commons, non-commerical, with attribution. Feel free to use photos, stories, and videos for your class, paper, or media opportunity.
More photos on Flickr and in our Archive.
More videos on Youtube and in our Archive. Download B-Roll of Water.org field work
Recent Stories
Do Something About It
There is no shortage of ways you can make a difference
Make a direct impact by involving your friends online and together we will make a difference. More »
Your voice has the power to make a difference. Signup and spread the message online. More »