Press
Welcome to the Water.org Press Room. Water.org invites members of the media to learn about our methods, access the most current news, content, and multimedia on the site.
Request an Interview or Speaker
Top Links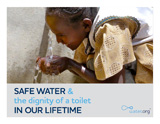 Press Kit (PDF)
About Water.org » Bio of Gary White »
About WaterCredit » WaterFacts »
Recent Coverage
Visit the
Coverage Archive »
News Releases
Print Documents
About Water.org 2-pager
PDF
Fast Facts
PDF
Annual Report
PDF
Co-founder Quotes
PDF
Photo and Video Resources
Water.org photos and videos are licensed as Creative Commons, non-commerical, with attribution. Feel free to use photos, stories, and videos for your class, paper, or media opportunity.
More photos on Flickr and in our Archive.
More videos on Youtube and in our Archive. Download B-Roll of Water.org field work
Recent Stories