Millions of women around the world are prohibited from accomplishing little more than survival. Not from a lack of ambition or ability, but from a lack of safe water and adequate sanitation at home. In fact, women and children spend a combined 125 million hours each day collecting water. Water collected this way is often polluted and unsafe, and can mean additional time spent caring for ill family members.
Neni took out a WaterCredit loan to install a toilet in her home. This has given her more time to run her snack shop and provide for her family.
Muhayanti and her mother make rugs to earn extra income. They sell the fringed rugs to market distributors who come to the village once per week to pick up the product and pay Muhayanti.
Sariati works as a housekeeper in her village outside of Jakarta, Indonesia. Having access to safe water has allowed her to devote more time to her business instead of walking miles to collect safe water for her family.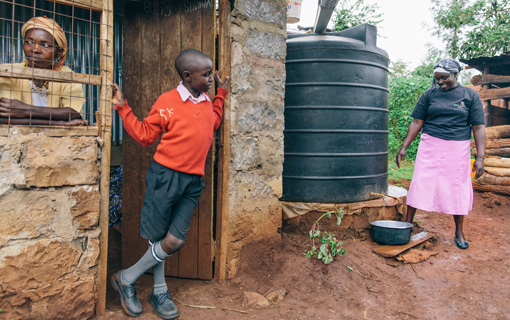 Sabina, a plantain and cow farmer, uses her rain catchment tank on her property in Gaichajira, Kenya. A readily available supply of fresh water has improved crop yields, raised her income, and improved the quality of life for her and her family.
Sopia works as a tailor, diligently repairing clothing. Before having access to safe water, she could only work in her free time. Now she is able to take on more clients and bring in a larger income.
With safe water at home, women in India have more time to tend to their crops. Like this woman, who is preparing tulsi to sell at her local market. Tulsi, also known as holy basil, is used in India for medicinal purposes and as an herbal tea.
Shea butter is considered valuable to Mrs. Azumbire's community as it features vitamin rich properties that heal and protect the skin from the damaging effects of Ghana's climate. Since gaining access to safe water, Mrs. Azumbire has significantly increased the amount of shea butter she can manufacture and sell.