Bijaya's home in Kamrup, India used to lie empty and silent for much of the day. While her daughters were at school, Bijaya would walk to-and-from the public well, gathering enough water for both her family and her livestock. Often, this meant five-or-more round-trip journeys across treacherous terrain.
Sometimes, she even had to enlist the help of her young daughters. Which meant skipping their afternoon studies, or even school itself.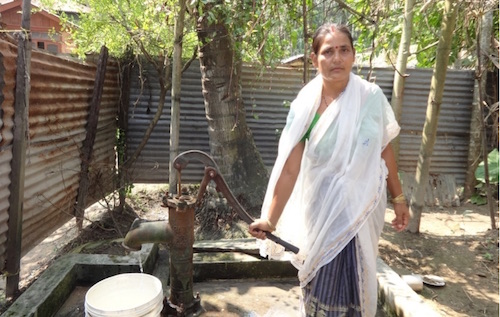 Everything changed for Bijaya when she took out a small WaterCredit loan, and installed a private tubewell in her backyard. During the hours in which she used to collect water, Bijaya now has time to earn an income by weaving delicate Eri silk on her loom.
Bijaya's home is no longer silent. The steady flow of water from her new tubewell, the hypnotic clip-clap of her wooden loom, and the scrape of her daughters' pencils pushing against their homework are all daily reminders of just how much has changed.