In Chandramaya's village there are two women's Self-Help Groups with 20 members in each. Both of the groups met the staff of ASOMI, a Water.org partner, to learn about water and sanitation, and how it could be made accessible to them. The women also attended a training and took out easily repayable loans to construct water points in their homes.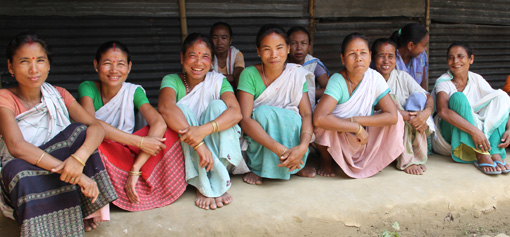 Chandramaya with her Self-Help Group members.
Chandramaya, who was instrumental in encouraging many other women to come forward and make use of the water and sanitation loans says, "If we don't work, how will we feed our family? Most of us are housewives, but we try and contribute to our family's income by weaving and rearing cattle. We decided that we had to form a group to support each other in times of need. We prefer giving out loans to women because women have shown better repayment record."
Now, the water connection is installed and Chandramaya gets clean water twice in a day. She gets sufficient water and when she is done filling all the containers, she lets other people in her village use her tap. Chandramaya says, "We had reported cases of people having malaria in this village. But now with access to clean water at the household, we hope the disease never returns."
---
This success story was submitted by Water.org's partner organization ASOMI, and was made possible by a generous grant from the PepsiCo Foundation.