Asserting that the water crisis can be solved in our lifetime, Water.org co-founders, Gary White and Matt Damon, take Charlie Rose back to the beginnings of Water.org. From opposite sides of the world, Guatamala for Gary and Zambia for Matt, they both realized how fundamental the water crisis was and decided to commit themselves to bringing people access to this basic need.
---
"When we see those affected by the water crisis as citizens of a broken system, one can find a solution."
- Gary White
---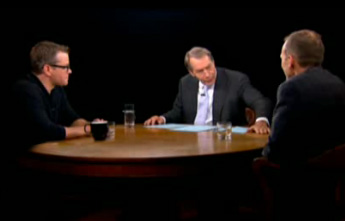 Gary White founded WaterPartners after graduate school over twenty years ago and Matt Damon had founded H2OAfrica after filming a documentary in Africa. When deciding to merge the two organizations they renamed the organization Water.org.
The two explain the impact of taking adjacent ideas, like micro finance, to design new ways to get solve the water crisis more quickly and for less philanthropy. Gary also outlines the New Ventures effort and how it will pilot and evangelize other innovative solutions for those living in poverty without access to basic services. Watch the interview in it's entirety on Charlie Rose's site.