Water.org's local partner, ASOMI, works toward increasing access to drinking water and sanitation through community-led hygiene and health education programs within the beneficiary community. ASOMI's water, sanitation, and hygiene program is also supporting the Indian government's goal to improve the accessibility of clean drinking water and sanitation among the rural population.
Training and awareness-raising activities in these communities are successful in motivating people towards maintaining a hygienic environment, and increasing access to safe drinking water and proper sanitation facilities through microcredit loans. Matimala Adhikari is a prime example of a mother who wanted to improve her family's health and gain additional time. As a resident of Moirapur Patgaon village in the Kamrup district, she was one of many who lacked access to safe water.
The only source of water for the family's drinking and cleaning purposes is a shallow 'kutcha' well dug at their backyard (see photo above). When the field staff of ASOMI visited Adhikari's house, they were surprised to see the condition of the well. It did not have a concrete base and there was no boundary around the well. Various types of algae and ferns were growing inside the well, while amphibians were floating on the water surface. The family was unaware of the ill effects of the dirty water they were using for household consumption.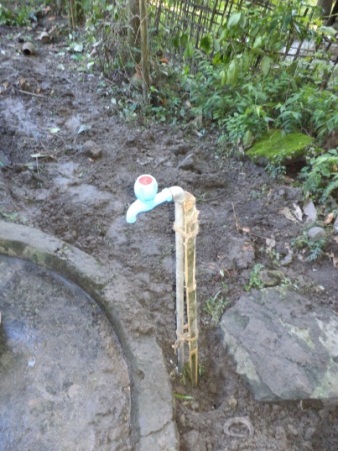 The Adhikari family, along with other families in the community, became aware of the harmful effects of unclean water, and was motivated to construct a water connection system which connected the house to the nearest utility's water line. Following construction, the safe water from the tap is collected twice a day and used for drinking, cleaning, and irrigation purposes. The family reports that they feel healthier and have developed a positive attitude toward maintaining a healthy and hygienic environment. They have started to spread the news in the community and share their success with others.
---
This success story was submitted by Water.org's partner organization ASOMI, and was made possible by a generous grant from the PepsiCo Foundation.