Moments after Usha welcomed us into her home with a tray of fresh-brewed chai tea, her kids walked in the door. Having just returned from a day at school, they placed their backpacks at the foot of their bed. It was time for Usha's favorite task of the day: homework.
Almost immediately, Usha's daughter pulled a workbook out of her bag, and ran over to sit with her mother. Usha gently guided her daughter through the day's reading exercise, smiling all the while.
According to Usha, this entire scene was made possible by the in-home washroom she built with the help of a WaterCredit loan. Having a private space to bathe and wash and go to the restroom has given her the time she needs to support her kids. And it's changed their lives, too.
"Our kids are healthier," she noted joyously, "and after we built the bathroom, they also started going to school on time. That's why we're so happy."
Unlike many women in her urban neighborhood, Usha studied through high school. Putting her in a great position to help encourage her kids' studies. But she sees much more in store for her kids than just high school.
"My dream for the future is for my kids to get a good education. That they should study hard," Usha told us. "If they're happy, then I'm happy."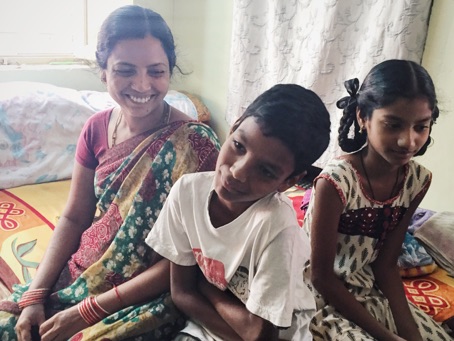 "You help your kids with their homework?"
"Oh, yes. Every day."