During a recent staff meeting, Patrick Alubbe shared a pair of experiences which he said had deeply shaped his work as our East Africa Regional Director. These experiences were also tied together by twin threads: water and tears.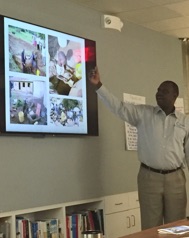 In his first recollection, Patrick spoke of a trip to western Kenya, where he came upon a group of young girls crouched down in shallow holes. "They were waiting for water to come up [from a slow, ground spring], so they could draw it into their Jerrycans. I asked how long they had waited there, and I was told some had been there since six in the morning. One girl, in particular, came after other people had already collected the water so she had to wait even longer."
By the time Patrick met this young girl, the sun was high in the sky, heating the air around her, and underlining just how long she had already spent sitting in wait. She wept as she told him "she had hoped to get the water and rush to school, but this day the water was slow to arrive. And she was sure to miss the entire day's lesson."
This, in turn, brought Patrick to tears, as he knelt down to wait with her.
But, Patrick told us, water can be the cause of another reaction entirely: tears of joy.
"In Ethiopia, we visited a community that had benefited from a water project funded by Water.org. [Just as we arrived,] we heard one of the villagers shouting, and our partner staff translated his cries. 'Come meet the people who have given us water! Come meet those that have saved our lives! Come meet the people who have made our women beautiful, and have given comfort to our children!' He went on and on."
As groups of community members began running down the hill towards him, Patrick said he could only respond one way. "I couldn't control my tears. It was such a moving moment that the fathers and the mothers had left what they were doing to meet us. I realized how much water means to the community. It empowers!"