While visiting Usha at her home in urban Hyderabad, she couldn't stop smiling. Filling a stainless pot with water from her household tap, she put water on the stove. As the water heated up, Usha shared all the amazing changes access to safe water and her new toilet afforded her whole family.
"Before we built the bathroom, we had more difficulties. When the kids had to go to school, or when we had to go out, we had difficulties. Since we had no bathroom, we had to take the kids outside. By the time we came back, we ran out of time."
She explained that the time once spent on things like collecting water or finding a safe place to relieve themselves prohibited her and her family from accomplishing much more in a day. Now things are different. With safe water just outside, and a recently constructed bathroom at home, Usha's elementary aged son and daughter can go to school. This gives Usha and her husband a sense of happiness. The children go to school on time, and even Usha's husband makes it on time to work in the city where he drives a taxi.
Then, while filling cups with freshly brewed tea she recalled, "The kids would be late to school, we would be late to work. Ever since [Water.org's microfinance parter] Sidur gave us the loan, we have saved time. We are able to get ready neatly and go. For that, we are happy."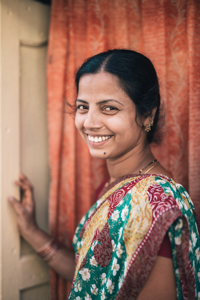 Usha reflected on the past a bit more, "It's difficult when you don't have a bathroom. When you go to the bathroom outside, flies land on you and spread diseases. Because of that, people become unhealthy. When people aren't clean, diseases get spread from one another."
"Now that we have a bathroom, no smell will come. We can keep it neat. And there are benefits, our kids are healthier. They can go themselves, close the door and take baths by themselves. Since it is within the house, I feel safe."
We ended our conversation with Usha learning more about what she does with her time now. She talked about how her afternoons are now spent teaching the children to read or preparing her tasty hot tea to share with neighbors. Then, again, Usha smiled and said, "I feel happy. You can tell by the way I'm talking!"
---
Help us bring more moms like Usha access to toilets, safe water and all the good water gives, send the mom in your life an eCard today.