As a young woman, Samta faced an unfair number of setbacks. First, her father arranged her marriage for the dowry alone, and sadled his daughter with a terrible husband. Then, after working for years in Bahrain to send money home, she found her husband hadn't used the hard-earned funds to build a house as promised. He'd spent the money on himself, and taken a new wife.

Samta could have given up. But she didn't.

Instead, Samta continued to work hard, and this time she kept the money for herself. She took her son and daughter back to her mother's home, and began building a house of her own.

Having given her children a roof over their heads, Samta could have stopped to rest. But she didn't.

Samta added to her home, building seven private rooms to rent out for extra income, but she found she had a difficult time getting and keeping tenants. The chief complaint Samta heard time and again revolved around water: though the complex had a shallow well with a hand-operated pump, it often ran dry, sending both landlord and tenant alike out on long walks to gather water.

As in much of the world, Bangladeshi women at the base of the economic pyramid are born into the burden of collecting water. From an early age girls are asked to skip school, and women like Samta plan their days and weeks around gathering life's most basic necessity.

Again, Samta could have accepted this as her lot in life. But she didn't.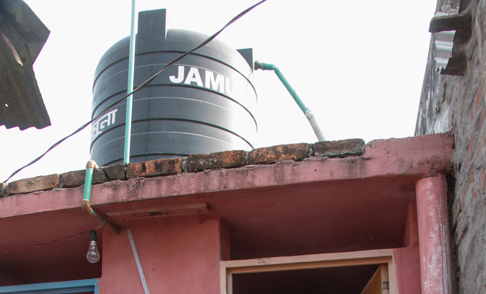 Instead, Samta worked with one of our partners in Dhaka to procure a mid-sized WaterCredit loan. Cash in hand, she was able to construct a small community water system comprising a deeper well, a power-driven pump, and a 500-liter water tank located on her roof. Pipes from the tank allow safe water to flow into taps in the kitchen, the toilets, and in small, private bathing enclosures.

Since the installation of the water system, there has been no turning back for Samta and her tenants. Women no longer spend their days absent from work looking for water, and mothers are able to give their kids a nice, clean bath before sending them off to school.

No room now remains vacant. The tenants gladly pay their rent on time, enabling Samta to easily repay her loan in instalments. And, most importantly, her seven-year-old daughter is getting a decent education without the threat of water standing in her way.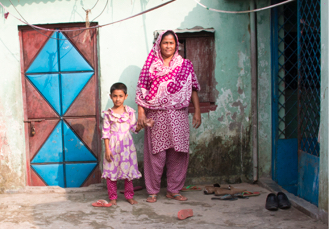 Just as Samta has gracefly negotiated so many crises in her life, she now finds herself having solved the water crisis for herself and her tenants, too.

*NB: Samta's name has been changed to protect her identity.