Where We Work: Water for Africa, Asia, Latin America & the Caribbean
For 25 years, Water.org has been working alongside our network of certified, in-country partners to provide communities in Africa, Asia, Latin America and the Caribbean access to safe water and sanitation. With your help, we have successfully and sustainably improved the lives of more than six million people.
Water.org sees the 663 million people living without access to water and 2.4 billion living without a toilet as individuals with financial power, rights, responsibilities, and the energy and ability to design their own future. They are participants, not recipients. We are committed to developing solutions that most effectively and efficiently respond to the specific needs of each community. Further, all of the projects we support are self-sustaining, with organizational and financial structures in place to allow communities to independently operate and maintain them.
Learn more about how we are impacting lives every day with safe water and sanitation in the countries below. To learn more about our approach to solving the water and sanitation crisis, please visit our Solutions and WaterCredit pages.
Africa
Ethiopia. Our program in Tigray, Ethiopia is serving 32,000 people in 76 communities and six schools. Tigray is a region in northern Ethiopia that borders on Sudan. Tigray is often one of the regions that is hardest hit by drought and crop failure.
Ghana. Program activities in Ghana take place in the Volta and Upper East regions, located in the southeast and northern parts of the country, respectively. Activities include community-based water, sanitation, and hygiene education programs.
Kenya. Water.org is working in the Kisumu region of Kenya. Located on the equator, Kisumu's climate is hot all year. Much of Nyanza Province, where Water.org is working, is semi-arid and is subject to severe drought. Most people obtain their drinking water from Lake Victoria, seasonal rivers and streams, and hand-dug wells. All of these sources are contaminated. Women and children walk up to six kilometers each day to haul water, a task that can take three hours. Water is not only contaminated at its source but also from the way it is transported and stored.
Uganda. Water.org's projects in Uganda are a mixture of grant and WaterCredit projects in urban and semi-rural communities located close to Kampala. More than 40% of people in the greater Kampala area live in unplanned settlements. Of those residents, only 17% have access to piped water. Many people use springs and other surface sources that are highly contaminated due to poor drainage and little regulation of waste disposal.
Tanzania. Given the growing sector of digital finance and the high demand for water and sanitation, we plan to start launching WaterCredit and digital finance sector programs with selected partners in 2017.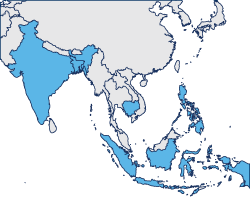 Asia
Bangladesh. In Bangladesh, Water.org offers both grant and WaterCredit programs, and is addressing safe water needs in both rural and urban areas. Our urban program focuses on the slums of the capital city, Dhaka. Our rural program is located in Rajshahi and Manikganj Districts.
Cambodia. Water.org expanded its WaterCredit model into Cambodia in 2014. Water.org has certified three partner organizations, but there are no active programs at this time.
India. Water.org's program in India provides safe drinking water and adequate sanitation facilities to the families living in five states - Andhrah Pradesh, Karnataka, Madhya Pradesh, Orissa, and Tamil Nadu. Water.org offers both grant and WaterCredit programs in India.
Indonesia. Water.org began working in Indonesia in 2013 and has since partnered with four microfinance institutions to provide water and sanitation loans. Water.org sees great potential for expanding in Indonesia and plans on launching additional partnerships with microfinance institutions in 2015.
Philippines. Water.org originally began working in the Philippines in 2003 with a project in Barangay Villahermosa. Since then, Water.org re-established programs in the country in 2014, and is currently working alongside four in-country partners to provide water and sanitation loans.
Latin America & the Caribbean
Honduras. Water.org has helped more than 40 Honduran communities build their own safe water systems. Our program in Honduras focuses on the Departments of Lempira and Intibuca, in western Honduras. The once heavily forested Departments now suffer from deforestation. This has led to extreme depletion of the local water tables, forcing women and children to walk long distances to collect water for their families.
Peru. Water.org certified its first partner organization in Peru in 2013. Since then, Water.org has added two more partnerships and opened a field office in Lima.
El Salvador. Currently, Water.org does not have active programs in El Salvador. Our previous work included two rural water and sanitation projects that served more than 1,200 people in the communities of Caulote and Las Americas.
Guatemala. Currently, Water.org does not have active programs in Guatemala. Our previous work in Guatemala served over 7,000 people in the western highlands of the country.
Brazil. In 2017, we will certify financial institution partners in Brazil with an aim of piloting our WaterCredit solution in 2018.