Facts About the Economic Importance of Safe Water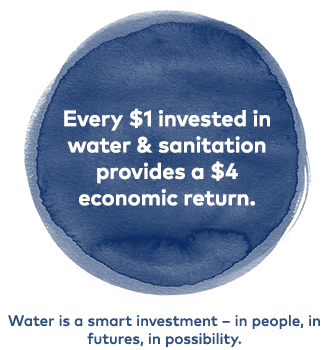 Share
---
Every $1 invested in water and sanitation provides a $4 economic return.1
---
$260 billion is lost globally each year due to lack of safe water and sanitation.1
---
Universal access to safe water and sanitation would result in $18.5 billion in economic benefits each year from deaths avoided alone.1
---
Universal access to safe water and sanitation would result in $32 billion in economic benefits each year from reductions in health care costs and increased productivity from reduced illness.1
---
Time spent gathering water around the world translates to $24 billion in lost economic benefits each year.1
---
Annual aid for water and sanitation amounts to only US $8 billion--far short of the $1 trillion needed to solve this crisis and maintain it long term.1,2
---
Access to credit plays a significant role in triggering household sanitation investments, increasing health and providing families the dignity of a toilet.3
---
Resource Links
Look for more facts in our collection of
Water Resource Links
.
References
World Health Organization. (2012). Global costs and benefits of drinking-water supply and sanitation interventions to reach the MDG target and universal coverage.
OECD. (2015). Aid to Water Supply and Sanitation.
Water and Sanitation Program (WSP). (2010). Financing On-Site Sanitation for the Poor, A Six County Comparative Review and Analysis.