Decreasing costs, increasing impact
Written by Melanie Mendrys, Water.org Director of Brand & Marketing
Published January 7th, 2021
---
I started working at Water.org eight years ago and it cost $25 to empower one person in need with lasting access to safe water or sanitation. Today, it costs the same as the large chai teas I drink many mornings. While the hot beverage gives this working mom much-needed caffeine, chai tea is not a life-saving necessity like safe water. My chai, your coffee, maybe even a large soda on ice – these drinks are a morning ritual of sorts and by choice. Millions of women and children have no choice but to endure a morning ritual of finding and collecting water. The laborious, daily task prevents them from being with family, from going to school, and from earning income. It now costs just $5 to change this. Here's why and how. 
Around the time I started this role, we celebrated reaching one million people with safe water and sanitation. While a significant milestone, there was so much more to be done. More than 800 million people still lacked access to safe water and billions lacked access to a toilet.
We knew with our solution called WaterCredit, we could gain efficiency and reach more people faster at a lower cost. This is because WaterCredit is a catalyst. Every dollar donated to Water.org creates greater impact when applied to this smart solution. At a high level, here is how it works: With support from Water.org, our in-country financial partners add loans for water and sanitation solutions to their portfolios. These partners then attract capital from the market to provide those affordable loans to people in need of water. People in need use these loans to put a tap or toilet in their homes and access local resources to do the work. On average, these water and sanitation improvements will last 20 years. Every repaid loan creates the opportunity for another family to get the safe water and toilets they need, fast and affordably. As WaterCredit proved to work, we diligently pursued our vision.
The months and years that followed – reaching one million people with safe water – were critical, and exciting. As donors continued to generously support our work and more partners started lending for water and sanitation, our impact increased and the cost to create that impact decreased. By remaining committed to our efficient, sustainable solutions, we can now empower someone in need with lasting access to safe water or sanitation for $5.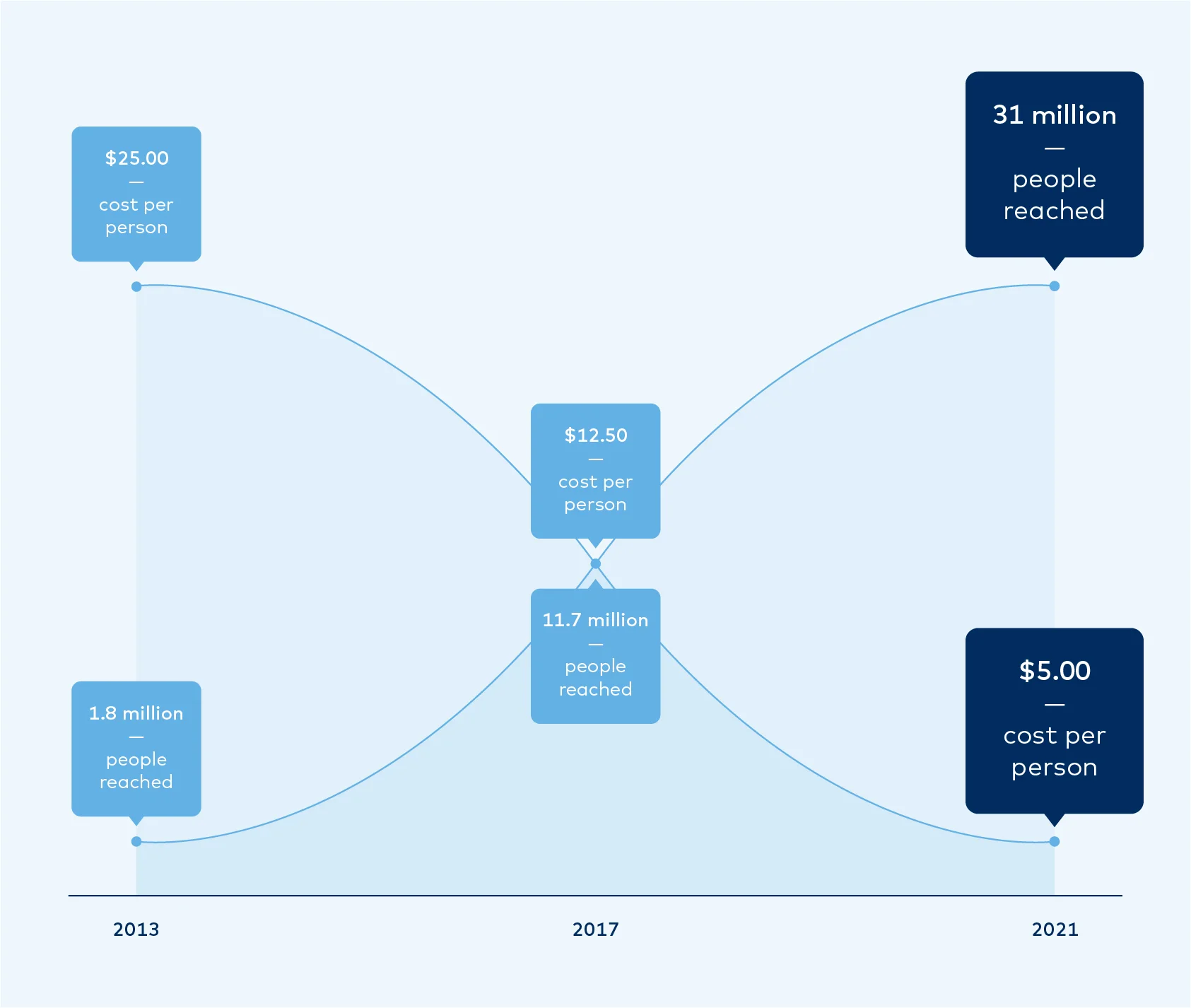 You may be asking, "How can $5 give someone a long-term safe water or sanitation solution?"
This is a fair question. The present cost per person is due, in part, to the success of the past. As we increased access to small, affordable loans for water and sanitation solutions and the efficiency in doing so, our cost to change lives went down.
A $5 cost per person reached is the result of the number of lives we've been able to change and spending your money wisely. By dividing our organizational expenses from fiscal year 2016 to 2020 by the number of people reached during the same period, the cost to reach one person with safe water or sanitation is $5.

Your money goes further with Water.org
We are dedicated to becoming more efficient, not just for the sake of efficiency, but for the purpose of reaching more people with safe water, faster. Your support means we can continue to change lives, together. This means children can now spend time in school instead of collecting water. Women can give their babies safe water to survive. Families can now wash their hands to help keep them healthy.