Peru's water and sanitation crisis
Out of its population of 32 million people, 16 million people (48% of the population) lack access to a reliable, safely managed source of water, and 15 million people (47%) lack access to safely managed household sanitation facilities. Access to safe water and sanitation has improved in Peru in recent years, yet significant shortfalls in both public infrastructure and household facilities remain.
Peru's diverse landscape includes a rapidly expanding urban population, leading to urban slums which have limited or no access to safe piped water, impacting the health of the people living there. This is in addition to communities in the remote regions of the Amazon and Andes with no access to piped or treated drinking water or safe human waste disposal. Droughts and stress on aging infrastructure pose threats, as well.
Despite these challenges, the Peruvian microfinance market is among the most developed in the world. Water.org sees great potential in this market to increase access to water and sanitation through our smart solutions.
Our impact in Peru
Launched in 2013, Water.org's programs in Peru prioritize regions that have a strong microfinance presence and high demand for water and sanitation improvements. Water.org's financial partners have a strong presence nationwide, but especially in Lima, the northern coast and the southern highlands. Through WaterCredit, our partners are disbursing loans for indoor bathrooms, water and sewage connections, improved sanitary installations, and tanks for water collection and storage.
We currently work with 7 financial institutions, a microfinance association and a federation representing 11 municipal banks. Our partners have disbursed 1.1 million water and sanitation loans over the past few years, providing access to clean water and sanitation to 4.3 million people. And, thanks to new financial partners, we are increasingly present in the Andes, the jungle and rural areas, reaching, as always, the families living at the base of the economic pyramid that need access to safe water and sanitation at home.
4.3 million people now have access to safe water or sanitation at home in Peru.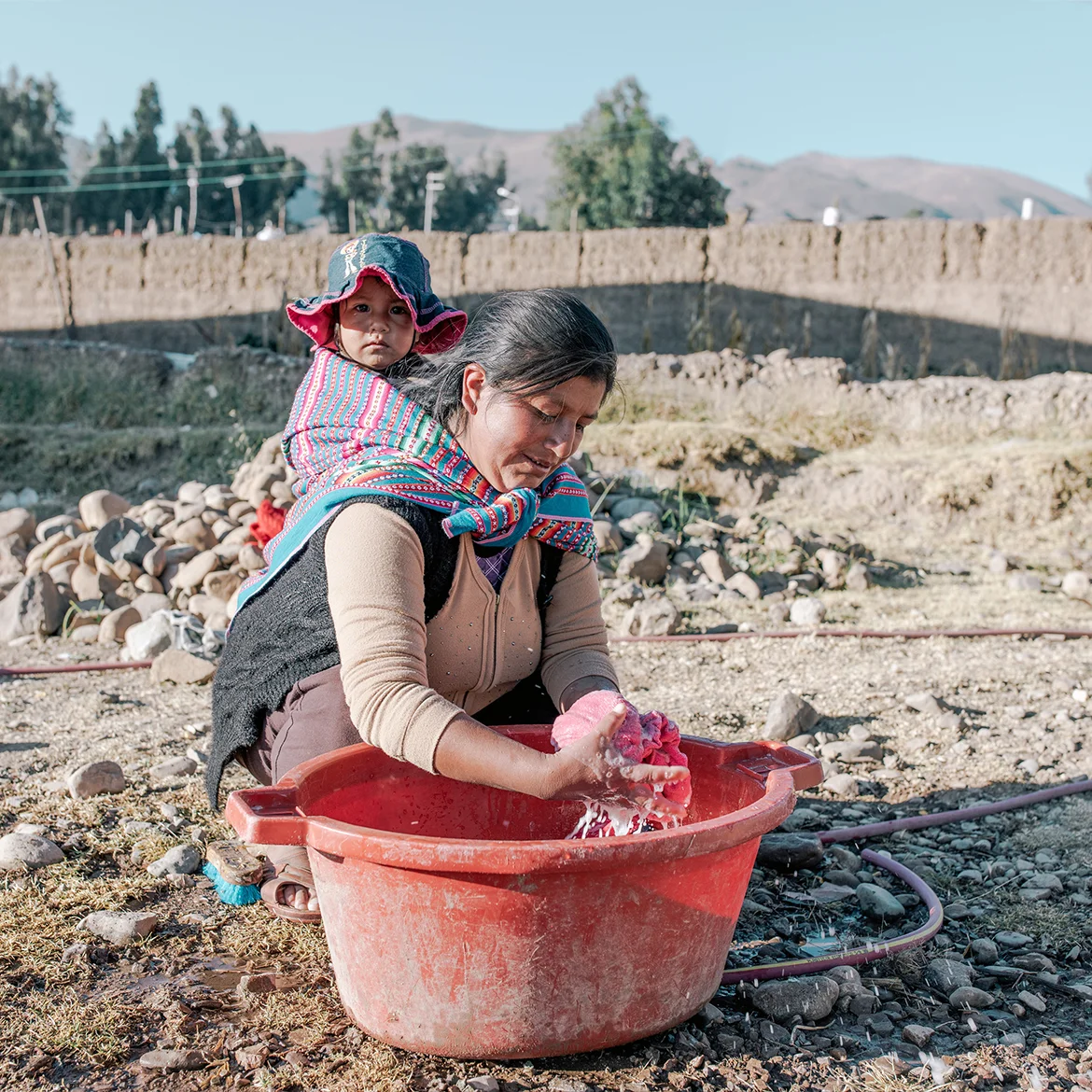 A vision for future impact in Peru
Over the next several years, Water.org will prioritize increasing access to water and sanitation financing nationally through new and expanded partnerships with local financial institutions. We will explore offering water and sanitation financing through commercial banks as well as lending and repayment options through a mobile platform. Digital financial services are a powerful tool to reach remote households with financial resources who otherwise don't have access to brick-and-mortar banks.
We are helping financial institutions develop new products best suited for local demand, reaching more people faster in both urban and rural areas of Peru.
In addition, we will make connections between private water utilities and our partners, seeking to help them generate sustainable models to ensure families in need have access to the infrastructure and connectivity of these utilities.
Stories of Impact

Nelly's heart

Water is a smart investment. The best investment the world can make to reduce disease, increase income, keep kids in school, and change lives. Nelly believed this to be true, and now she knows it for a fact. Thanks to Water.org's smart solution known as WaterCredit, the hardworking, loving, single mom who wanted to give her family safe water and a better life was able to do it.

Read more

Stories of Impact

Ladreo ended his family's water crisis

Through our partner, Mi Banco, Ladreo took out a small loan to fund the construction of a bathroom and a water storage tank that connects to a shower and a faucet. Now Ladreo's family home is complete. Read Ladreo's story.

Read more

Stories of Impact

She can move mountains

Yolanda is a hopeful, determined woman. We know this because every day she works to provide water for her family. Her home sits above the city of Cusco in the Andes Mountain range at more than 2,000 feet from the center of town. Yolanda purchases buckets of water from residents in town. At least every other morning, she makes her way down the steep, rocky road from her house to buy as much water as she can carry back up the more than one mile vertical trek.

Read more
Peru impact statistics
People reached
4.3 million
Capital mobilized (USD)
$1.3 billion
Loans disbursed
1.1 million
Number of active partners
7
Average loan size (USD)
$1,137
Percent of women borrowers
43%
Households living under $6.85/day
65%
To help end the water crisis in Peru, donate today.
Donate