Our impact in Bangladesh
Since 2003, Water.org has partnered with some of Bangladesh's leading microfinance institutions to empower more than 5.9 million people with access to water or sanitation through small, affordable loans.
More than 1 million loans have been disbursed by our partners, with more than $401 million provided in loans to people in need of safe water and sanitation.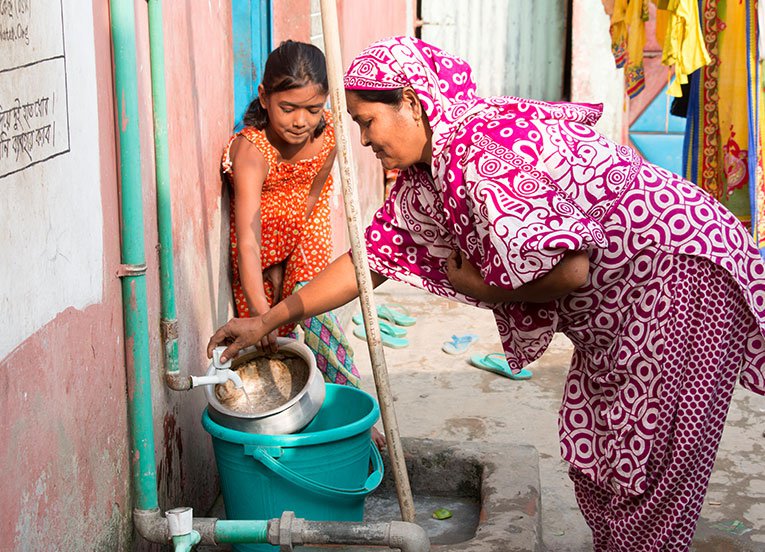 We seek to expand impact with our current partners and create new partnerships with additional microfinance institutions and commercial banks. Commercial banks are critical to our expansion strategy as they can offer low-interest loan products to a broad audience of people in need. We will also partner with financial institutions to explore offering loans for water and sanitation through digital financial services so that customers can access and repay loans using their mobile phones.
Water.org has strong partnerships with sector stakeholders in Bangladesh, such as the World Bank and Palli-Karma Sahayak Foundation (PKSF). These types of partnerships are critical to driving policies that free capital for water and sanitation lending and encourage uptake of financial solutions to help end the water crisis.
Stories of Impact

Queen of the hills

Joinab introduces herself as the "queen of the hills" and rightfully so as she has conquered her family's water crisis high in the hills of Chittagong, Bangladesh.

Read more

Stories of Impact

Parul's family is healthy and safe

At the intersection of the water crisis and the sanitation crisis are often stories of severe illness. The consequences of using or drinking unsafe water can hardly be managed when a toilet is not present or overflowing with rainwater. This is why we give our everything, every day to increase access to improved and affordable safe water and sanitation solutions for families living in poverty, like Parul's.

Read more

Stories of Impact

Mitu

A lack of in-house toilets in Bangladesh often jeopardizes health, safety, and dignity. Discover Mitu's story of how she plans to bring an in-house toilet to her family.

Read more
To help us reach more people in need of safe water and sanitation in Bangladesh, donate today.
Donate