Moms who change the future
Millions of moms are affected by the water crisis. Our solution empowers them to solve it. Read more from April Davies, Water.org Senior Regional Manager, Latin America.
---
May 9, 2019
When my daughter was a baby, I would travel with her for my work at Water.org. She would stay in a hotel with a caregiver while I interviewed families who had gained access to safe water. I remember one visit in particular in Lima, Peru. I went to visit families who now had access to safe water or a toilet through our work, and in one of the households there was a boy about my daughter's age. He had the same toys my daughter did. He was into Mickey Mouse and my daughter was going through a big Mickey Mouse phase. Here I was in an urban slum with a family who had just gained access to a toilet, and our kids were into the same things, even though I've always lived in a home with running water and a toilet, as most of us in the developed world do. 
When friends ask about my work, that's what I tell them – moms are moms and kids are kids all around the world. We might live in very different environments and face unique challenges, but we share a basic humanity that shines through any circumstance. 
As women, we're all in this together. A mom in Peru and a mom in Kansas City, where I live, all have to balance providing for our families and taking care of our kids. And we all want the best for them – we want them to be healthy, to get an education, to have a good life. 
For the moms we work with at Water.org, small loans for taps and toilets are the means to a bright future for their children. 
In Peru, the families I visited were getting access to sewage systems for the first time. The city provided financing to connect to the system, but families often lack the funds to build out a sink, toilet or shower to actually access those services. Water.org helps provide access to small, affordable loans to put in a toilet, shower, and sink for the first time. 
The health of kids is tied to where people get their water and if they have a sanitary place to go. I've seen very, very ill children, little ones contracting rotovirus, passing away because of diarrhea due to a lack of access to safe water. Where they get their water or their access to a toilet is really a matter of life or death.
By providing financing for water and sanitation, we empower families to design a solution that works for them.
The women we work with are some of the strongest I've ever met. They're game-changers in their communities, the first to take out credit to improve their lives. All of these women are changing futures. 

I'm honored to partner with women around the world as they seek to build a bright future for their children. We're able to give women around the world access to small loans that dramatically change their family's health, hope and opportunities.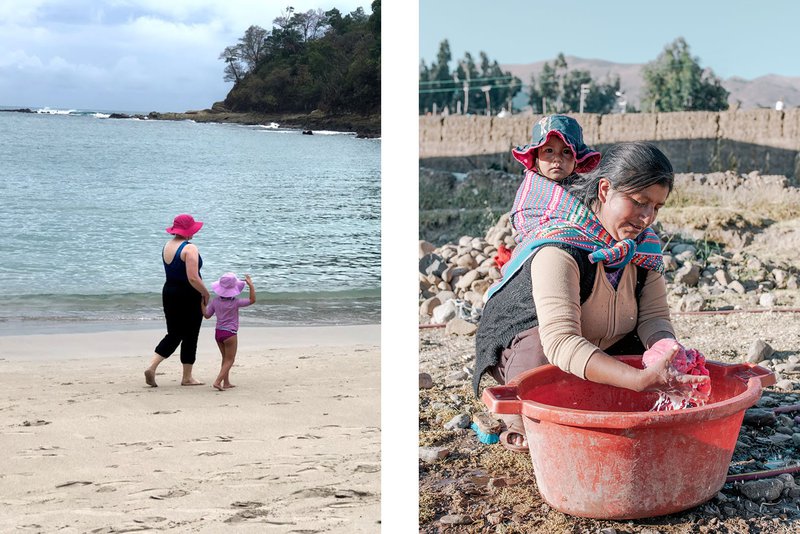 April Davies and her daughter in Costa Rica. A woman and her daughter in Peru.