Rain or not - Christine's family has water year-round
The water tank loan is the best thing that happened to me. My back had started aching from carrying water jerrycans daily, but now I am well as you can see. And, I am no longer scared of COVID-19 like I was before.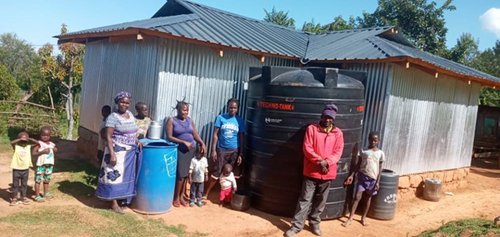 Several hours north of Nairobi, on the western side of Kenya sits Bokorin Village. The village is relatively dry as it experiences just two rainy seasons a year. Because the village lacks a utility-type water supply, families in Bokorin rely on the rains as their primary source of water. Families like Christine's.
Christine and her husband have nine children. While some of their children are adults now with kids of their own, three of Christine's kids are in school and the rest remain home with Christine. As a small-scale farmer, Christine earns about $60 each month raising and selling chickens. Her husband operates a boda-boda business using his motorbike and makes about $75 a month. The family lives on less than $5 a day which is why it has been hard for them to purchase a water solution to ensure they have access to water year-round. During the dry seasons, when the nearby seasonal streams dried up, Christine walked alongside other villagers for three hours to get water from a larger river. After collecting what she could carry, Christine made the three-hour trek home. This trip was difficult and exhausted Christine.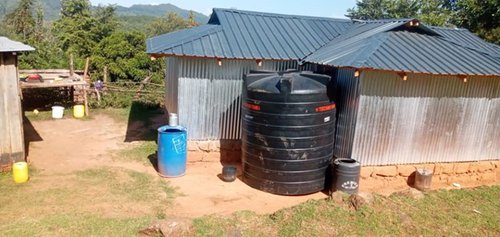 When concerns of COVID-19 reached Christine's village, she knew her family needed sustainable access to water at home so they could remain there, rather than leave to find water, thus reducing their risk of exposure to the virus.
Because Christine is a member of her local farmers group she was introduced to the option to finance water and sanitation products by Hand in Hand, an affiliate of the group and one of Water.org's partners in Kenya. Through the organization, Christine and her husband were able to take a loan of 29,500 Kshs, which is about $295, to purchase a 5,000 liter rain storage tank. The family got their tank in March 2021, just in time for the rainy season. When asked about the tank Christine explained, "The water tank loan is the best thing that happened to me. My back had started aching from carrying water jerrycans daily, but now I am well as you can see. And, I am no longer scared of COVID-19 like I was before."