Stella Artois and Water.org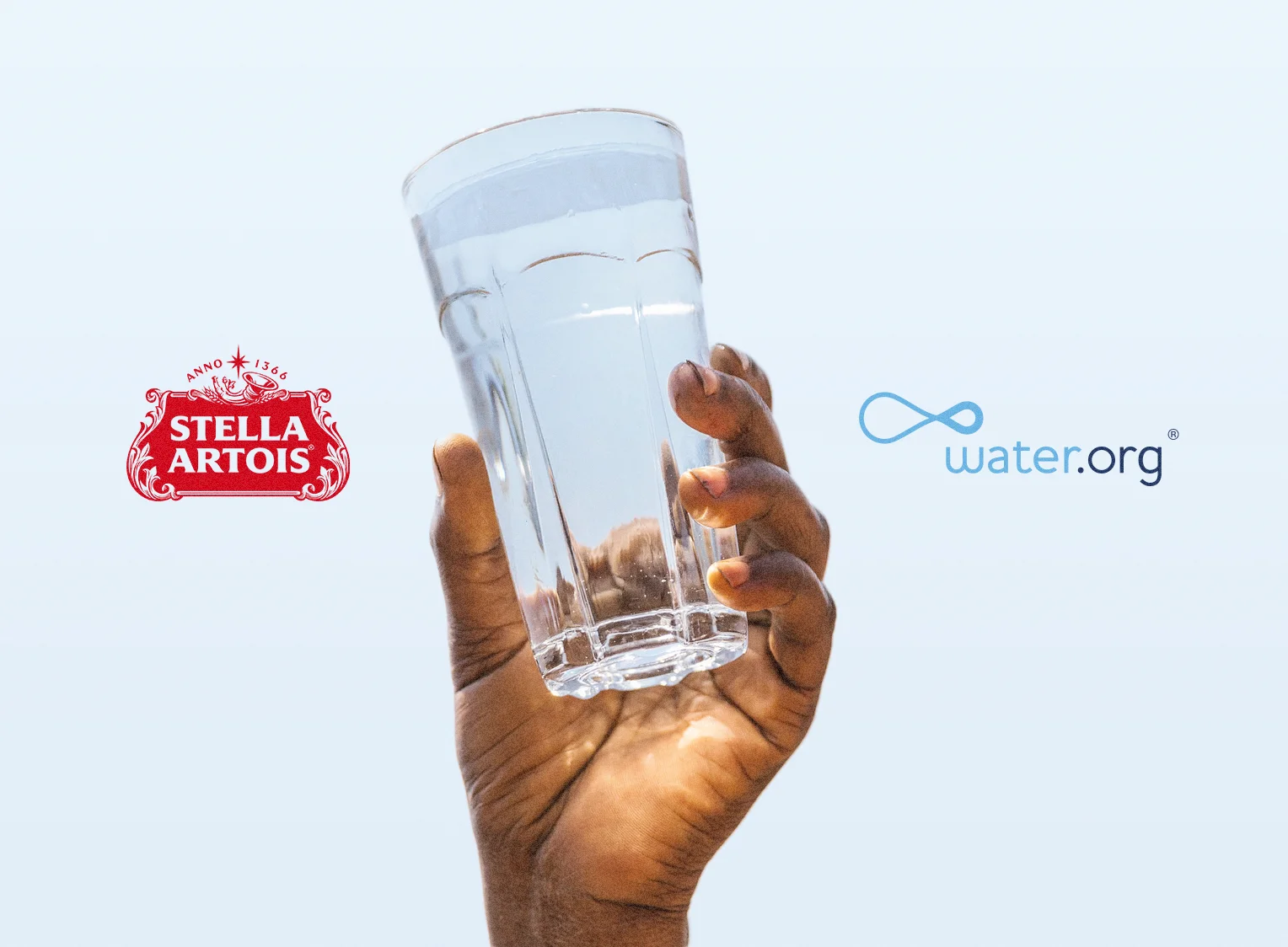 A powerful partnership
Since 2015, Stella Artois and Water.org have worked together to change lives with safe water. Through our partnership, we've helped provide access to safe water to more than 4.5 million people in need around the world.
By purchasing limited edition Chalices and other Stella Artois products, consumers were empowered to support our vision of safe water for all.
"Access to water is access to education, access to work, access to the kind of future we want for all humankind. Our partnership with Stella Artois helps us tell this story —and gives consumers the chance to help us change it." —Matt Damon, Water.org Co-founder
From short-term promotion to long-term partnership
The Stella Artois and Water.org partnership is proof that brands can positively impact their business while changing lives. What started as a short-term promotion grew into a multi-million-dollar, multi-year partnership, allowing Water.org to scale impact to new regions and reach millions of people with access to safe water. With increased sales, notable media recognition and generous giving, Stella Artois established itself as a philanthropic and world-changing brand.
2015

Creating awareness of the global water crisis

The "Buy a Lady a Drink" campaign debuted at the 2015 Sundance Film Festival, featuring a series of short films and images with stories of women impacted by the global water crisis.

The campaign invited consumers to purchase Stella Artois Chalices created exclusively for the campaign and featuring designs from local artists in three countries where we worked: India, Honduras and Ethiopia.

2016

Illustrating the power of safe water

The 2016 campaign launched at the Sundance Film Festival with two animation films featuring Stella Chalices painted with scenes of impact, such as children going to school, families earning an income, and communities growing crops.

Stella Artois also launched a "before and after" film, featuring a family in Honduras whose lives were transformed with access to safe water through our programs.

2017

New films bring the campaign to life

In 2017, Stella released "Elizabeth's Dream," a new film featuring a woman in Kenya whose dreams were brought to life with access to safe water. A documentary film called "Our Dream of Water" was also created, featuring the stories of three women who are impacted by the global water crisis.

2017

World Water Day in NYC

For World Water Day on March 22, 2017, a media event took place at the Oculus in New York City to launch a one-of-a-kind interactive installation celebrating the 800,000 people around the world who now have access to safe water to date through the partnership.

2018

Super-sizing the strategy

In 2018, Stella Artois and Water.org created their first-ever co-branded Super Bowl commercial, positioning the cause front and center to reach more than 100 million viewers in a single day.

2018

Wait for Water

On Friday of Super Bowl weekend, the "Wait for Water" video was launched, capturing a social experiment that forced consumers in three cities to imagine what life would be like without access to safe water. The video has been viewed more than 15.8 million times across social channels.

2019

Do a little good

Stella Artois and Water.org returned to the Super Bowl in 2019 with the help of a few new friends. Sarah Jessica Parker and Jeff Bridges played their iconic roles of Carrie Bradshaw and the Dude, with the message that switching to Stella Artois can do a little good.

For the duration of the campaign, every purchase of Stella Artois — bottle, pint or pack — triggered a donation to Water.org. New chalices were also released, highlighting artwork from countries where we work: Mexico, Peru and Tanzania.

2021

Give the gift of time

For the first time ever, the campaign took place during the holiday season in 2021, and a new chalice was designed to fit the holiday timing.

Women around the world spend 200 million hours a day collecting water. Proceeds from every Stella Artois purchased during the holiday season were donated to help give women around the world access to safe water, giving them their time back. A video featuring Matt Damon helped bring to life the importance of access to safe water and giving the gift of time.

2022

The Drop Artois

In celebration of World Water Day on March 22nd, Stella Artois announced The Drop Artois, a generative art NFT project hosted on the Art Blocks platform.

The collection included 1,024 beautifully designed water themed NFTs for art collectors to choose from, with all proceeds going to Water.org in perpetuity. The Drop Artois collection sold out in 2 hours and 14 minutes.
Safe water and sanitation for all
The success of the partnership can be demonstrated through a number of metrics, but perhaps the most important is this: the Stella Artois and Water.org partnership has helped change the lives of more than 4.5 million people in the developing world with access to safe water or sanitation.
We are committed to continuing our work to reach people living in poverty with long-term, sustainable access to safe water. With the collective power of partnership and the generosity of millions of consumers inspired to participate, we are closer to achieving our vision of safe water and sanitation for all.