Lilis is proud to have safe water at home
Pride in ownership is a theme of Lilis' life. While she cares for her home in West Java, Lilis' husband travels to the capital city of Indonesia to work. Her home is the family's haven, something her husband has worked hard to earn and the place they raise their two daughters. Living on her husband's income has been incredibly challenging for Lilis as she helps manage their money well.
As the COVID-19 pandemic made its way to Lilis' village, the safety and comfort she felt about her home, their access to food and water, and their finances shifted. Lilis had new concerns about exposure to the virus when she left home to retrieve water from a distant pond and Lilis' husband was furloughed from his job at a private airline.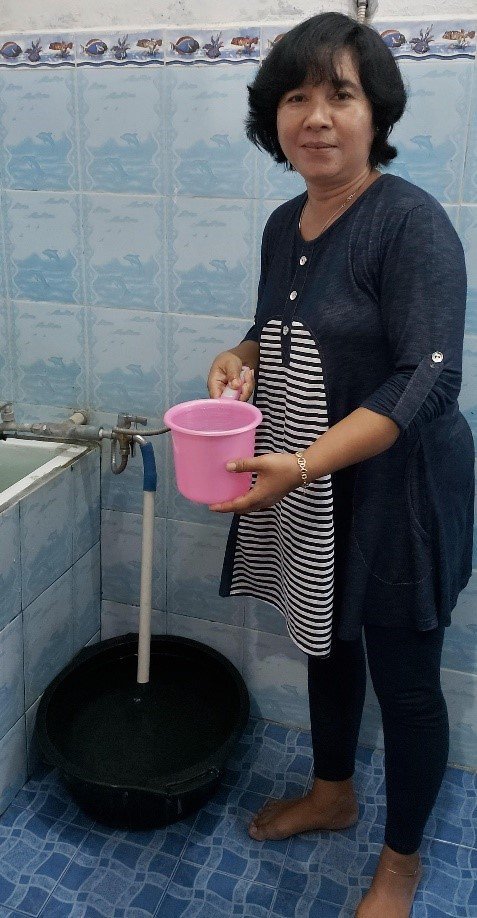 After months of struggling with no pay, the money the family had saved to pay for a water connection and toilet in their home soon went to cover the cost of survival. As the pandemic continued to take its toll on families around the wold, Lilis and her family tried to remain positive. Her husband started selling fried chicken at the market to earn income and though they still struggled without access to safe water at home, an opportunity was presented to Lilis that brought the family some hope.
Lilis attended a meeting in her village hosted by the local water utility. The utility company partnered with Water.org and a partner local bank in the region, BMT. The bank told the attendees about how, if they needed a water connection or bathroom for their homes, especially to protect their families from the pandemic, there are affordable financing options available to them. Lilis and her husband found this to be a perfect solution for their situation and chose to take out a small loan through BMT. The couple's water utility bill and loan for the water connection total about $9 a month.
The couple can afford the installment and water fee and they are no longer saddened by the loss of their savings. Lilis expressed such pride and appreciation for the fact that with this affordable, lasting water connection the family now has safe at home where they can remain safe from exposure to COVID-19 and the other health and safety concerns they once experienced when they had to walk to find water and a safe place to go.
---
While our work slowed down in the early days of the COVID-19 pandemic, in July 2020 we started to increase impact. We changed more than 6.6 million lives in 2020, and 4 million of those people were reached after the pandemic started. That's 4 million more people who can now wash their hands and protect their families from viruses and disease. Read more about why the health of our world, starts with safe water.